A lot of members registered in CYBER EXPO's self Care Member Area daily. We have noticed that most of them are not able to log in due to Password generate problem.
So, In this Tutorial, we will show you – How can you Generate a New Password for CYBER EXPO self Care Member Area?
Let's Get Started-
First thing First, Go to Self Care Member Area from here

Next, From Menu Bar you can click on Generate Password or Simple Follow this Link from here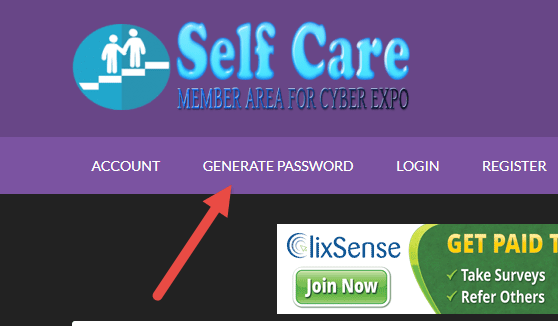 Now, Enter Your Username or Registered email Address to Generate a New Password. (No issue if you don't remember username)

Next, Click on Reset My Password.
Now, You will see this message-
Check your email, You will Find the email from self care-CYBER EXPO (if you don't find email then wait for 5 minutes and then search with admin@adpostjob4u.in or admin@cyberexpo.in)
Once you Received the email click on Reset Password, then you will be redirected to self-care website.
New Password Set up Form will appear, Now you have to enter your new password, and re-enter the same new password once again to confirm.
Now click on change password.
Now you can able to Login in CYBER EXPO Self Care Member area with your New Password. Remember for Username you can even enter your Email Address.

All done! Good luck & happy Earning!