CYBER EXPO is India First Genuine Data Entry Jobs Provider where you will still get paid if you are doing any Spelling Mistakes. Shocking Right? Well, All credits go to Grammarly app.
There is Dozon of Online and Offline Data Entry Jobs Provider on Internet providing scam projects where you have to pay high registration fees. and after working hard you will be showing some scam allegation of Spelling mistakes and grammatical error.
But, Here in CYBER EXPO, we offer Free Data Entry Jobs as well as instead of terminated account we provided Grammarly software that helps you proofreading all your typing jobs projects. This will make your typing clean from Spelling mistakes and free from grammatical error. Grammarly both work in Windows, Mac or even on Android.
If you are working in a Data entry projects with CYBER EXPO it's strongly recommended that you use Grammarly software to make your typing projects grammatical error free. Also, if any Data Entry Jobs member starts doing work without Grammarly, then the account will be terminated.
Do you know CYBER EXPO Still pay you if you have done any accidental spelling mistakes and give 3-time chance to review your work mistakes? All with the help of proofreading software.
How Grammarly work?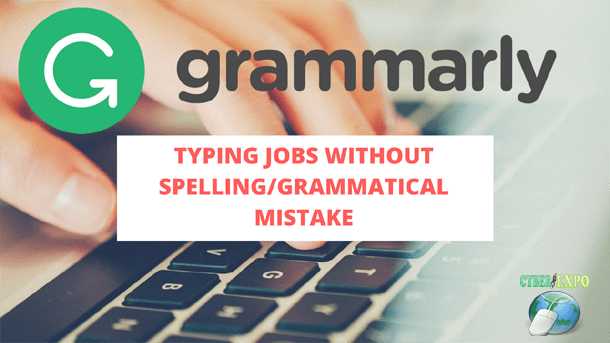 Grammarly help writer to eliminate grammar errors. Detect plagiarism. Easily improve any text. Services: Advanced Grammar Rules, Contextual Spell Checker, Vocabulary Enhancement, Plagiarism Checker, Corrects Writing Mistakes. When you are doing any article writing or any typing projects there might be an issue of dozens of spelling mistakes.
Alos, some time professional guys are making a grammatical error like missing the Full stop, Comma, Semicolon etc.
So using Grammarly will scan your typed work and suggest you the correction.
Honestly! Fixing this type of mistakes is painful with your eye.
How to Use Download Free Grammarly app with Microsoft office?
Once you complete typing any projects files which called text matter, you have to save it temporarily on MS word document.
Now Click on Grammarly and wait for few second while Grammarly scans your text.
Now, on the right side of your documents, you can able to see suggestions. Go ahead and make the correction as per requirement.
Here is Video Tutorial that let you know how to install Grammarly step by step.
After installing Grammarly, you should Install Another Proofreading software ginger from here.
Also Read: How to improve typing speed within 7 days.
Next to Read: How to remove all Double Space of your typing projects.