Almost 631,480 Time in month India People Search for Data Entry Jobs on Internet. Good to see that we India are taking interest on Finding Online Part Time Jobs.
But their Reality is almost 95% of Searched Data Entry Jobs in India are Scam.
So, in this Article, we will Expose up to 20 Type of Data Entry Fraud that Happens daily in India. Read, share and Beware from them.
Exposed! 14 Type of Common Data Entry Fraud Data in India:
1. Google Ads/Google AdWords!
I am not saying that all Google Ads are Fraud. But in India Most of the Data entry Fraud Happen using Google Ads.
Scammer Start a fake Website, they put some Attractive Fake Data Entry Projects Details with High payment.
Since its impossible for a Scam Website to get top ranked on Google, they use Google ads. Google Ads is a platform where you can pay money and put your websites on the top of the search result. Google ads charge on PPC (pay per Click)
Finally, People get Distracted and Click on those ads and land to a Fake Data Entry Provider Websites.
Getting Data Entry jobs from those fake websites cost you around Rs-2000.00-18,000.00 INR. Once 20-50 People join to their website and pay the registration fees, the websites got shout down.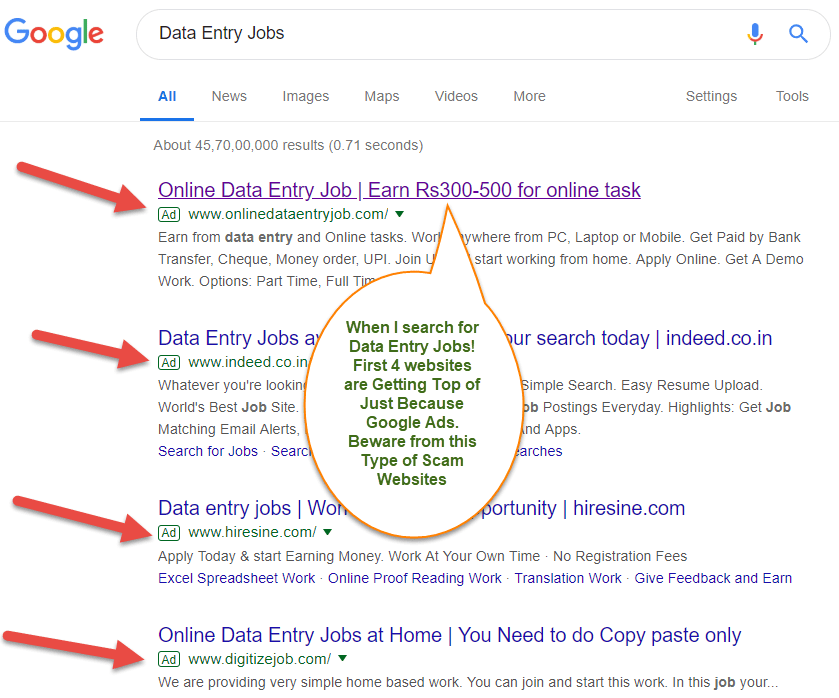 So, if you are from India, Don't Click Data Entry Ads on Google.
2. Email Data Entry Jobs:
Almost 317 million people use Gmail in India. So, Your Email Id is another target for those guys to make data entry fraud.
Daily you share your email Id to the deferent website & Android apps. Legally or Illegally your email ID has been sold on the Internet.
Now Scammer buys those email and uses various email blast service (Send bulk Email) to send fake Data entry Jobs to offer.
You Can't Imagine! Daily the send up to 1 million email blast, you may call this as email phishing where people get trapped for Data Entry Jobs. Once you click on those emails either you need to fill some, or pay the amount for registration fees (Once paid, you lost the money) even sometimes then send COD (Cash on Delivery) Data Entry CD/DVD. You need to pay some amount to received those Fake Data Entry DVDs. Beware of them.
Know: How to Identify which is Fake Data Entry Email & Which is real Data Entry Email?
3. SMS Data Entry Jobs:
In the Final analysis, we found a lot of Data Entry Fraud happen using SMS Text Message. You might Already Receive those Fraud Jobs Message.
Those fraud SMS try to attract you by offer urgent required Candidate with Earn Rs-45,000 or Rs-60,000 Which is too good to believe.
Here Also you need to Pay an upfront Registration fee. Beware of them.
4. WhatsApp/Facebook Fake Jobs:
We thought Social media is Free, Actual we are Free, and we keep addicted to those social media sites like facebook, WhatsApp, Instagram etc.
Data Entry Fraud happened using this advantage. Scammer put a fake ad on social media sites and same story here.
You need to pay some registration fees for blushed and get scammed.
5. Newspaper Data entry Jobs:
Jesus Christ, you can't believe now a day's newspaper ads have been used to make people fool by data entry jobs.
I guess newspaper authority never verify the reality of those ads.
Since Data Entry Operated ads has been published on Newspaper, so people believed it blindly and lose their hard-earned money to a fraud data entry work.
6. BPO Fraud Data Entry Jobs:
In the earlier case, All those Data entry Frauds happened Online. There is no way to visit their office or any physical address.
But this time scammer takes this data entry scam to the next level. They start Franchisee with deferent BPO or sometimes rent their own office.
You can visit their office and meet them face to face. This a fidelity fact happen. You thought since they have their own office, so it would not be fake anymore. And you paid the registration fees.
You are wrong. The Projects they provided you are totally scammed. You can't complete their target.
You have lots of work and time is limited. Let's say you complete those work anyway. But they reject your work by showing mistakes, grammatical errors double spacing etc.
7. MCA Registration Data Entry Jobs:
MCA (Ministry Of Corporate Affairs – Government of India) this name has been used to loot people money. A lot of fraud data entry websites make you fool that they are real and MCA Approved. Eventually, they use Ministry Of Corporate Affairs – Government of India logo into there websites.
So the truth of this type of scam is, They find Privately limited company name and registered a fake website without informing the real company.
Now they download all the Data of those company like CIN Number, Registration number TAN number etc.
Now they gave those point to verify the company first on MCA websites then pay the amount.
Since the company name is registered with MCA, people paid the registration fees and lost their money.
8. Legal Document ISO & Fake Payment proof!
This is one of the oldest ways of Data Entry Jobs Scam. A common website full of legal documents like ISO Certification and Fake payment Proof (Both Cheque Payment Proof & Internet Banking Payment Transfer Screenshot)
You can find dozens of such websites in India. Please beware of them.
9. Time Submission Typing Jobs:
There are a few websites offering Typing Jobs with Time Submission. Let's make it clear. First of all, You need to pay a Registration fee for working 3-6 month.
Now you have to log in to there member area portal where a Scan copy from a book will appear.
Below there will be a Text entry form where you need to type what written above scanned copy as per given time.
So, what is the scam?
First of all, there will be a long paragraph which you need to type within 5-6 minutes. Second, since you have to submit your typing entry within time, so there is no way to review the type and make any correction,
Third, most of the Paragraph that you need to type is from Law and Medical books. So it's very hard to pronounce and type such work!
99.99% of people failed to complete this chalanging typing work.
So, the company making data entry fraud legally! How ironic is not it?
10. Data Entry Jobs CD/DVD:
They send a Job CD/DVD which is full of garbage or blank. This another type of data entry fraud where you need to pay for a jobs CD. Those websites collect your name and address and send you a Jobs CD via COD (Cash on Delivery)
Please don't be fooled by this type of scam. The CD or DVD is nothing but full of Internet garbage. There is no way to earn money from this CD.
Once you pay the amount while COD there is no way to get back your money.
Note: Some of the websites are making this fraud to the next level. They ask to pay Rs-200.00-600.00 while you order and never send and CD to your address.
11. Fake Legal Notice Send and Demand Money!
Recently a few people from Bangalore and making fraud with Data Entry Jobs Agreement. You to sing their agreement paper where it will be written if you are unable to complete their data entry projects you need to pay the fine.
You can't get their accuracy level, and this is the time where the scam story started-
They call you and ask to pay fine due to non-compete. If not they then send fake legal notice.
Anyway, people get scared and ready to pay the fine. Beware from this type of agreement-based data entry fraud.
12. Asking Extra Money!
So you started data entry jobs by paying the Registration fees. Now once your work complete you are being told that Rs-37,000 billed was generated. You will be happy to see your effort in effect.
Now they asked to pay the GST, or any other Fees to process the bills. This is the trap guys! Legal there is no need to pay any amount for bills clearance. So, beware of such work from home data entry fraud.
13. Android Apps Scam:
The scammer is everywhere, Even in Android apps! There are few apps that demand that you can earn money doing typing jobs from a mobile device. Believe me either they scam your money or waste your time.
14. Job Portal like Nukri.com:
Jobs Portal is a way to hire the candidate for companies. So, a lot of data entry fraud happen here. Scammer Sing into the portal and put listing like computer operator, Data Entry Typist, Data Processing Jobs, Part time Jobs, etc. You thought this is most people Job Portal so this listing would not be fake.
You paid the amount blindly and get scammed.
Please note Job Portal like Nukri.com. Indeed, shine.com is a platform where anyone can put any type of jobs listing by paying the amount. So beware of such listing.
Every Day 347 People loosing there money to Fake Data entry Jobs!
Every Year 126,655 Pople loosting There Money on a fake Data Entry Jobs!
Every Year this scamstar looting up to 10 crore from innocent People of India.
This article will save your friend and family to be a part of this biggest Data entry Fraud business in India.
Share on Facebook, Twitter and Instagram. To support is Please subscribe to our YouTube Channel and Share this Video on "Fraud Data Entry Jobs in India"

Team CYBER EXPO.